The Scarlet Jaguar – Ebook Now Available!
Meteor House is thrilled to announce the expansion of our ebook catalog, adding Win Scott Eckert's The Scarlet Jaguar to our earlier release, Christopher Paul Carey's Exiles of Kho.
Winner of the 2014 New Pulp Award for best novella, The Scarlet Jaguar was published as a Signed Limited Edition trade paperback in the summer of 2013 and quickly sold out. If you missed getting a copy, now is your chance as Meteor House is pleased to release the digital edition for Amazon's Kindle devices. (A Barnes & Noble Nook version will follow soon.)
The Scarlet Jaguar, a sequel to The Evil in Pemberley House (cowritten by Philip José Farmer and Win Scott Eckert), is Pat Wildman's second adventure, but by no means her last, as Eckert is hard at work transcribing her next exploit.
THE SCARLET JAGUAR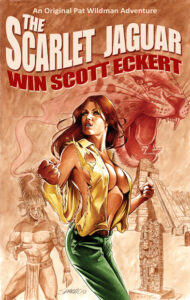 When we last saw Patricia Wildman, daughter of Doc Wildman, the bronze champion of justice, six months had passed since the main events of The Evil in Pemberley House. She and her associate Parker, an ex-Scotland Yard Inspector, had set up Empire State Investigations at her Pemberley House estate—and she just received a mysterious phone call from her supposedly late father . . .
Several months later, Pat and Parker undertake an investigation that takes them from Pemberley House in the Derbyshire countryside . . . To New York, where they battle agents of the Scarlet Jaguar and meet Pat's old friend, the icy, pale-skinned beauty Helen Benson, who agrees to join them on their quest . . . To the small nation of Xibum, where the evil Scarlet Jaguar's reign of uncanny assassinations threatens to expand to the rest of Central America—and beyond!
Now, it's a race against time deep in the wilds of the Central American jungle, as Pat Wildman and her crew confront the Scarlet Jaguar's weird power to eliminate his enemies from afar, marked only by a wisp of crimson smoke—smoke resembling nothing so much as the head of a blood-red screaming jaguar. But who—or what—is the Scarlet Jaguar? A power-mad dictator determined to reclaim power? A revolutionary movement bent on taking over the country, and the rest of Central America?
Or a front for something even more sinister . . .?