First Hardcover Series
Here at Meteor House, we have always lamented the fact that many of Farmer's books were only issued in paperback editions. We are sure that all of you would agree that every one of the Grand Master's books deserve a hardcover, and a deluxe hardcover edition at that! On this page you will find all the Farmer books that have been issued by Meteor House as hardbacks for the very first time. Keep checking back for new additions to the list.
---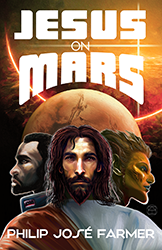 First published in paperback by Pinnacle Books in 1979, Jesus on Mars is another of Philip José Farmer's thought provoking stories that isn't afraid to explore a taboo subject. Published here in harcover for the first time, this edition features a Foreword by Tracy Knight and an Afterword by Keith Howell. Also featuring wraparound cover art, a color signature sheet and a variant cover by Keith Howell.
---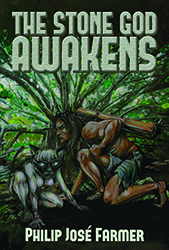 Originally published as an ACE paperback in 1970, The Stone God Awakens has been reprinted numerous times throughout the '70s and into the '80s, but is still one of Philip José Farmer's lesser-known works. And that is a shame because, as Danny Adams (co-author with Philip José Farmer of The City Beyond Play and Dayworld: A Hole in Wednesday) spells out in his introduction, it is "a breathless mix of adventure, intellect, and myth." Meteor House is proud to give The Stone God Awakens the hardcover limited edition it deserves with some really wonderful cover and interior art by Charles Berlin.
---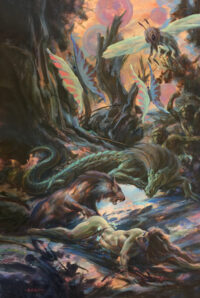 Philip José Farmer's third paperback for DAW is slightly unusual in that Farmer did not conceive the original story. Rather, he translated and "retold" an adventure tale by J. H. Rosny (originally titled L'Étonnant Voyage d'Hareton Ironcastle [The Amazing Journey of Hareton Ironcastle] and published in 1922). The American publication had amazing cover art by Roy G. Krenkel. Unfortunately, with so much text on the cover, only a small part of the artwork was used. So, at Meteor House we decided to show off the full image. On the trade paperback we cover up just a little of the left-hand side of the art. But on the hardcover, we've decided to show off the art in its full glory with no cover text at all!
---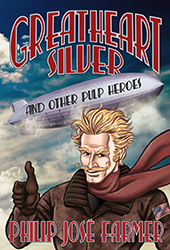 The three Greatheart Silver stories originally appeared in the Weird Heroes paperback anthologies: "Greatheart Silver in Showdown at Shootout" in Weird Heroes Vol 1, 1975, "The Return of Greatheart Silver" in Weird Heroes Vol 2, 1975, and "Greatheart Silver in the First Command" in Weird Heroes Vol 6, 1977, In 1982 Tor collected these stories and published them in paperback under the title Greatheart Silver. In 2019 Greatheart Silver and other Pulp Heroes collected these stories in hardcover for the first time, and also included additional stories from Farmer's "Pulp Period" of the late 1970s: "The Grant Robeson Papers," "Savage Shadow," and "Skinburn," alongside a new introduction by pulp scholar Garyn G. Roberts, Ph.D., and artwork by Keith Howell.
---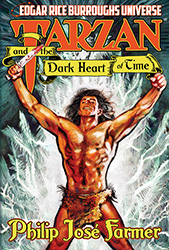 Philip José Farmer had a life-long dream to write an original, authorized, Tarzan novel. In the late 1990s he was granted permission. There were rumors of a hardcover, or a trade paperback edition, but the book was only released as a mass market paperback in 1999 by Berkley. Tarzan was downplayed in the title: The Dark Heart of Time: A Tarzan Novel with the artwork showing a face, that might be Tarzan, hiding behind a fern. Meteor House's 2018 hardcover edition restored Farmer's preferred title, Tarzan and the Dark Heart of Time and the cover art featured Tarzan front and center. There is also a Foreword by Robert R. Barrett, and an Introduction by Win Scott Eckert.
---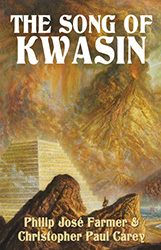 Unlike the rest of the books on this page, The Song of Kwasin was not published as a paperback. The third and concluding novel in the Ancient Opar/Khokarsa series was begun by Philip José Farmer in the 1970s but finished by Christopher Paul Carey in 2008. It's first publication was in the hardcover omnibus volume Gods of Opar (Subterranean Press, 2012). Meteor House published the first stand-alone edition in both hardcover and trade paperback with introductions by Paul Di Filippo and Christopher Paul Carey and cover art by Bob Eggleton!.
---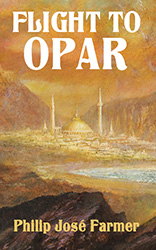 Flight to Opar was published as a paperback by DAW books in 1976. It was Farmer's fourth book with DAW and the second book in the Ancient Opar/Khokarsa series. Meteor House not only had the privilege of publishing Flight to Opar in its first hardcover limited edition, we were able to restore nearly 4,000 words that were cut from Farmer's original manuscript. This volume features introductions from SM Stirling and Christopher Paul Carey.The hardcover is sold out but there are trade paperback and ebook editions available.
---