PRINT BOOKS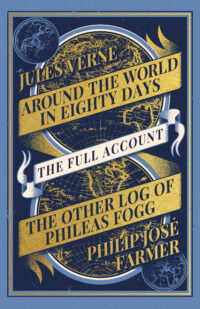 is a one-of-a-kind edition wherein Around the World in Eighty Days by Jules Verne and THe Other Log of Phileas Fogg by Philip José Farmer are woven together, allowing the reader to peruse the original exploits as described by Verne, followed by, in alternating fashion, Farmer's revelatory account of what was actually occurring "behind the scenes." Upon the recommendation of Verne expert Henry G. Franke III, we have utilized the Hutchinson text of Around the World in Eighty Days. The alternating texts of each novel have been set slightly differently in order to enhance readability.
---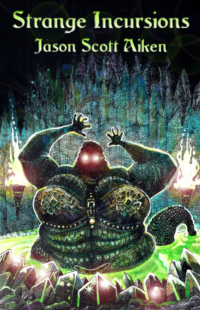 contains two short stories by Jason Scott Aiken, "The Blood of Raizor" and "Galazi in the Enchanted City," about natives clashing with invasive alien species. The stories are not directly related to each other but share common inspirations and themes from the pulps, mythology, history, and writers like A. E. van Vogt, Eugéne Henneber, H. Rider Haggard, Edgar Rice Burroughs, Robert E. Howard, Charles Saunders, and Philip José Farmer.
---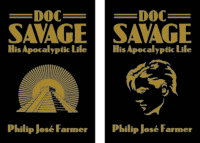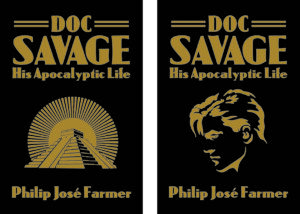 still contains all the bonus material from our trade edition, but also features two different bronze foil stamped cover images for you to choose from (while supplies last) and a bevy of fine features, such as: custom printed color end papers, facsimile signature page, color limitation page and sewn in silk bookmark that make this short run edition a collectible to be treasured.
---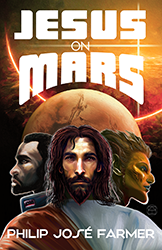 is the story of the first expedition to Mars who unexpectedly find Martians and humans living in a strange subterranean world. A world where the Martians pay homage to a sunlike globe floating high above their cities of the interior. But there is a man who dwells within the flaming orb, and the name the people call him, is Jesus. And what will happen if "Jesus" returns to the Earth with the expedition?
---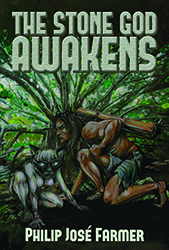 tells the story of Ulysses Singing Bear, a scientist in the 1980s whose experiment goes drastically wrong. One second he is preparing a test, the next he is turned to stone, every atom in his body petrified. Suddenly roused from his unwanted slumber, Singing Bear finds himself in the midst of a raging battle between beings he does not recognize. This battle is being fought by sentient beasts, to whom he is a god! Full of adventure and intrigue, the story of Singing Bear's journey enthralls at every turn.
---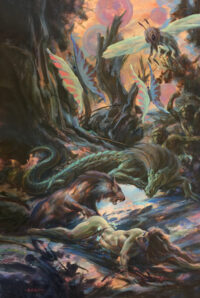 was published in 1976 by DAW books However, Philip José Farmer didn't write this book, he translated and "retold" a classic French adventure tale by J.-H. Rosy. While the original paperback edition of the book only showed a small portion of the cover art, Meteor House is all in on this amazing artwork by the legendary Roy G. Krenkel. Our edition, available as both a trade paperback and signed limited edition, includes bonus material by Brian Stableford, Win Scott Eckert, and Christopher Paul Carey.
---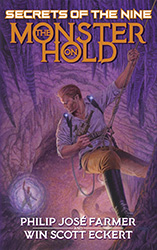 is the fourth novel set in the Secrets of the Nine series. Philip José Farmer began the novel in the 1970s but never completed it. Using Farmer's partial manuscripts and copious notes, Win Scott Eckert, co-author with Farmer of The Evil in Pemberley House, has completed the novel at long last. These dark manipulators control the destinies of billions, including the formidable Doc Caliban, Champion of Justice. Once, Doc had been their servant and had shared their secrets. Now, appalled by their tyranny, he and his half-brother, Lord Grandrith—bastard son of Jack the Ripper—have turned against the Nine, daring to challenge their centuries-old supremacy.
---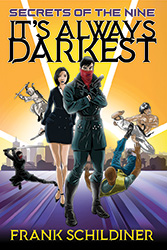 is a novella set in the world of the Nine. Grim and ancient rulers who discovered the key to eternal life thirty-thousand years ago, and ever since have held the world secretly in thrall. These dark manipulators control the destinies of billions, including the formidable Doc Caliban and Lord Grandrith, two men who have turned against their undying masters, daring to challenge their centuries-old supremacy. And now one other candidate has joined the revolt, vigilante Langston DuPont, trained killer of Asian descent, a shadowy martial arts master raised in a hidden Tibetan lamasery, is armed only with his skills and blazing twin .45s.
---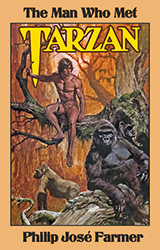 Most people familiar with Philip José Farmer know of his Tarzan Alive: A Definitive Biography of Lord Greystoke. In fact many became fans of Farmer because of this book. Less well known are the many other articles, essays, letters, and speeches Farmer wrote about Edgar Rice Burroughs and Tarzan over a span of several decades. This collection brings many of these together culminating in the high point of actually interviewing Lord Greystoke himself!
The book features stunning cover art by famed movie poster artist John Solie, interior art by Keith Howell, and essays by Christopher Paul Carey, Win Scott Eckert, and Henry Franke! This book will be published in a Trade Paperback and a Signed Hardcover Limited Edition. The Hardcover Limited Edition will be signed by Christopher Paul Carey, Win Scott Eckert, Henry Franke, John Solie, and Keith Howell.
---
is a novella-length biography Philip José Farmer wrote about his hero Sir Richard Francis Burton. Written for a "men's magazine" in 1953, but not used, the manuscript sat in the trunk until it was finally published in 2006 in the collection Pearls from Peoria. Published for the first time here in both an affordable stand-alone edition, and a hardcover limited edition, featuring cover and interior art by Charles Berlin, introductory material by Mick Walton (author of Sir Richard Burton and His Circle), Mark Hodder (author of the Burton and Swinburne novels) and Paul Spiteri (editor of Pearls from Peoria), A Rough Knight for the Queen is Farmer's loving biography of one of his heroes.
---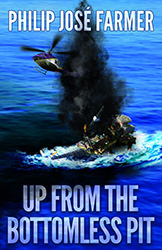 tells of a world so ravenous in its desire for oil that it has thrown caution to the wind. Using an experimental deep-water laser drill off the California coast, humankind burns a hole through the ocean floor only to unleash a deadly torrent that initially threatens the greater Los Angeles area, but quickly escalates to a catastrophe of worldwide proportions with the potential to wipe out all life on the planet.
---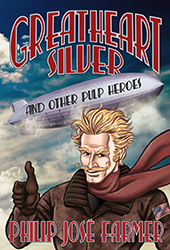 Philip José Farmer had a life-long love affair with the pulps he read in his youth. They influenced nearly everything he wrote, but in the 1970s he paid special tribute to them with several stories. Greatheart Silver and Other Pulp Heroes collects these stories for the first time in hardcover! This collection also features an introduction by college professor and pulp historian, Garyn G. Roberts, Ph.D., and artwork by Keith Howell!
---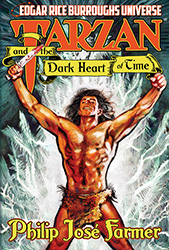 One of the most famous heroes in literature is back! Tarzan, Lord of the Apes, returns with a vengeance in this action-packed adventure. Tarzan's beloved mate, Jane, has been kidnapped, and the furious ape-man will let nothing stand in the way of rescuing her—not even a sinister safari whose target is Tarzan himself. With fierce Masai trackers leading the chase, a trio of white hunters are hellbent on capturing the Jungle Lord. But as the pursuers, and their uncanny half-human tracker, close in from behind, Tarzan races toward even greater danger ahead…
---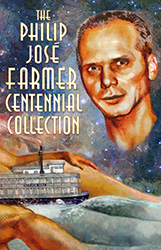 is a mammoth collection worthy of the Grand Master. With over fifty pieces spanning seven decades the Philip José Farmer Centennial Collection goes beyond the typical "best of" anthology. From classic science fiction to poems, articles, tributes, speeches, and more all by Farmer himself. Additionally there is an introduction by Joe R. Lansdale, a foreword by Tracy Knight, a bibliography by Zacharias L.A. Nuninga, and each decade features a synopsis of Farmer's life and career. At well over 900 pages this collection is a must for all science fiction fans and historians and is available in trade paperback and hardcover featuring two covers by Mark Wheatley. Click the above link to see the insanely long table of contents.
---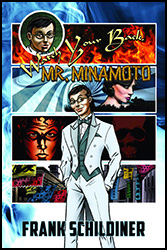 is a tale of suspense, action, and ancient horror! On the trail of professional assassin Igor Dragomiloff, grandson of the legendary master of the Assassination Bureau Ltd., Minamoto seeks to stop his foe from accessing an ancient evil: the secret knowledge of an ancient tribe of cannibalistic killers who worship long-forgotten gods. But is protecting the world the enigmatic Japanese man's only motivation?
---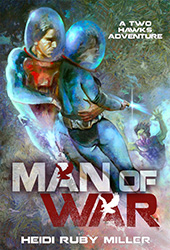 follows the continuing adventures of Roger Two Hawks, WWII pilot and "gate" traveler. Heidi Ruby Miller's sequel to Two Hawks from Earth, "Dakota's Gate," paired him up with Dakota Cummings, another gate traveler who takes him back to her home Earth to help save her world.
---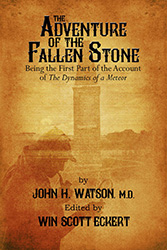 is The Adventure of the Fallen Stone: Being the First Part of the Account of The Dynamics of a Meteor by Win Scott Eckert. This 24 page, 8,600 word story chronicles Sherlock Holmes' ongoing efforts to combat the hellish hun, as recounted by the Great Detective's Boswell, Dr. John H. Watson, and edited for publication by Win Scott Eckert!
---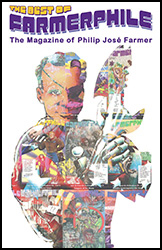 Farmerphile: The Magazine of Philip José Farmer was a quarterly fanzine that ran fifteen issues from July 2005 to January 2009. Thanks to Philip José Farmer's "Magic Filing Cabinet," Farmerphile published—for the first time anywhere—short stories (mostly not science fiction), excerpts, articles, speeches, and letters written by Farmer.
Farmerphile also contained articles and appreciations from Farmer's fans and from his fellow science fiction authors, from critiques of his work to stories of personal encounters, and everything between. The Best of Farmerphile includes articles by Bob Zeuschner, Tracy Knight, Gary K. Wolfe, Alan Hanson, Will Murray, Joe R. Lansdale, Robert R. Barrett, Spider Robinson, Howard Waldrop, George H. Scheetz, Steve Mattsson, Heidi Ruby Miller, Tom Wode Bellman, Leo Queequeg Tincrowdor, Art Sippo, Rhys Hughes, and Allen Steele.
Assembled here is a wealth of information about one of the greatest science fiction writers of all time along, with some of his earliest writing.
---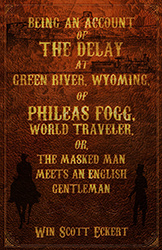 is Being an Account of the Delay at Green River, Wyoming, of Phileas Fogg, World Traveler, or, The Masked Man Meets an English Gentleman by Win Scott Eckert. This 28 page, 9,800 word adventure pulls back the veil on the previously untold tale of Mr. Phileas Fogg's fateful encounter with the legendary masked rider of the plains and his faithful companion—an episode suppressed (with good reason!) by M. Verne himself from the final publication of his classic Around the World in Eighty Days.
---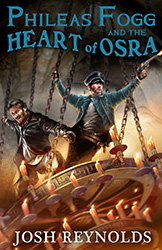 is volume #3 in the Phileas Fogg series and a followup to Josh Reynolds exciting novella, Phileas Fogg and the War of Shadows. A new and more deadly conflict has begun in the Central European country of Ruritania. Drawn to the city of Streslau by a mysterious letter, Fogg finds himself caught between old allies and new enemies in a struggle for survival.
---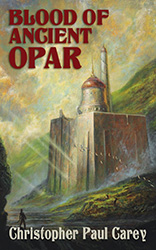 is the sequel novella to Hadon, King of Opar by Christopher Paul Carey, chronicling Hadon's further adventures in the fallen empire's last remaining queendom. Using Farmer's own notes, Carey at last fills in the missing history of a civilization lost to the mists of time…
---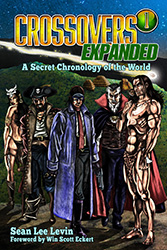 is a huge chronology of crossover tales in which characters, situations, or universes from a wide variety of fictional works, are linked together in order to form a vast and diverse Crossover Universe. Compiled by crossover and Wold Newton expert Sean Lee Levin, the two-volume Crossovers Expanded includes more than 2000 crossover tales, as well as many timeline entries charting the wider history of the Crossover Universe.
Crossovers Expanded contains over 300,000 words of all-new crossover entries and serve as a companion to Win Scott Eckert's original epic, Crossovers: A Secret Chronology of the World, Volume 1 and Volume 2.
Purchased them separately or as save money on the set.
---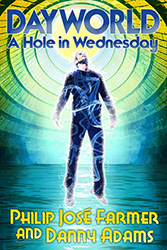 is a prequel to Philip José Farmer's Dayworld trilogy about an overcrowded future that cures the problem by "stoning" six-sevenths of the population each day. Set between the events of the classic short story, "The Sliced-Crosswise Only-On-Tuesday World," and the three novels: Dayworld, Dayworld Rebel and Dayworld Breakup, Farmer began this novel but never completed it and meteor House is pleased that Danny Adams has picked up the mantle!
---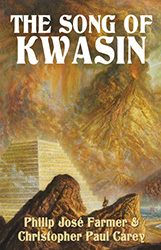 is the first ever stand-alone edition of Philip José Farmer and Christopher Paul Carey's critically acclaimed third volume of the Khokarsa/Ancient Opar series. After years of exile in the Wild Lands, the giant warrior Kwasin of Dythbeth returns to the mighty Khokarsan Empire seeking the oracle's forgiveness, only to find his native land torn asunder in a bloody civil war. Both the Signed Hardcover Limited and Trade Editions include rare and previously unpublished bonus materials.
---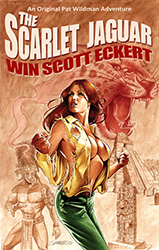 is a sequel to Philip José Farmer and Win Scott Eckert's Wold Newton novel The Evil in Pemberley House, about Patricia Wildman, daughter of one of the greatest heroes of our time: Doc Wildman, the bronze champion of justice. The Scarlet Jaguar kicks off a series of new adventures of Pat Wildman and her crew and is a limited edition signed novella by Win Scott Eckert, one of the world's leading experts on Farmer's Wold Newton Family!
---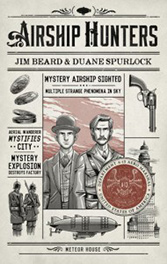 delves into the mystery of 19th-century UFOs as the skies are haunted by mysterious airships and unfathomable secrets. Can two agents of a newly formed secret government agency discover the truth behind the greatest mystery of them all?
---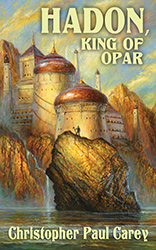 picks up fourteen years after the novel The Song of Kwasin (coauthored by Philip José Farmer Christopher Paul Carey) and the great calamity that threw the mighty queendoms of Khokarsa from their foundations. Hadon is king of Opar, charged with protecting his far-flung jungle city against the myriad dangers that threaten it.
---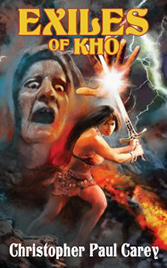 is a prequel to Philip José Farmer's beloved Khokarsa adventure series: Hadon of Ancient Opar, Flight to Opar and The Song of Kwasin (written with Christopher Paul Carey). The original trade paperback edition has been out of print for over two years. Due to public demand the book is now available in hardcover for the first time!
---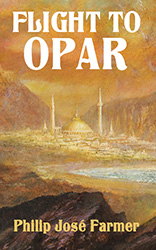 this never-before-published Restored Edition features nearly 4,000 words cut from Farmer's original manuscript when it was published in 1976. This excised material encompasses long passages of narrative, dialogue, and rich world-building details on Ancient Opar and the civilization of Khokarsa which readers have never previously been able to enjoy—until now.
---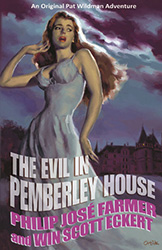 out of print since 2010, our new edition of The Evil in Pemberley House, by Philip José Farmer and Win Scott Eckert, is the first affordable trade edition of this scarce title. All rejoice as the original Pat Wildman novel is back in print!
---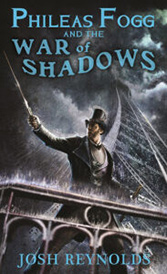 Philip José Farmer's, The Other Log of Phileas Fogg, the "true story" behind the events of Jules Verne's Around the World in Eighty Days, was only the beginning! When an old foe disrupts Fogg's retirement, seeking his aid against an enemy which threatens them both, Fogg finds himself once more thrown into the white-hot crucible of war.
---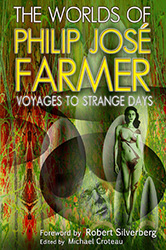 this fourth Farmer retrospective looks at his more traditional science fiction—the future as only Farmer could imagine it. Featuring a foreword by science fiction Grand Master Robert Silverberg, the full table of contents will be announced in February.
---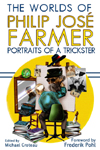 a third venture through the works of Philip José Farmer focusing on his penchant for literary tricksterism featuring essays by Frederik Pohl, Michael Bailey, Steven Connelly, Bruce Sterling, Chris Garcia, Tom Wode Bellman, Jonathan Swift Somers III, David M. Harris, Leo Queequeg Tincrowdor, and Rick Lai and fiction by Charlotte Corday-Marat, Win Scott Eckert, Heidi Ruby Miller, Octavio Aragão & Carlos Orsi, and S.M. Stirling as well as hard to find, and never before seen works by Philip José Farmer himself.
---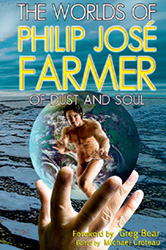 this new anthology is another tour through SF Grand Master Philip José Farmer's many creations, featuring essays by the likes of Charles Platt and James Sallis, stories set in Farmer's expanded worlds by Spider Robinson, Mary A. Turzillo, and others and featuring an all new novella by Philip José Farmer & Christopher Paul Carey, along with much more rare and never before seen material by Farmer himself.
---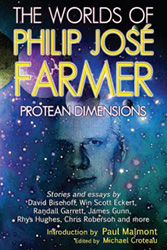 is a tour through SF Grand Master Philip José Farmer's many creations, featuring essays by the likes of Randall Garrett and James Gunn, interviews with Farmer, stories set in Farmer's expanded worlds by Chris Roberson, David Bischoff, Rhys Hughes, and other SF/F talents, and previously unpublished fiction and more by Farmer himself.
---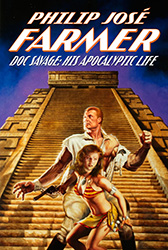 back in print for the first time in over 30 years, Philip José Farmer's biography of the bronze crusader who fought almost 200 separate battles against the forces of evil "is ingenious, sardonic, adulatory, outrageous and funny in turn." (Publisher's Weekly) This trade hardcover edition comes just in time for Doc's 80th anniversary, and features a brand new foreword by Farmer and pulp expert Win Scott Eckert; tributes by other Farmer and Doc experts, including John Allen Small, Keith Howell, Rick Lai, Art Sippo, Christopher Paul Carey, and current Doc Savage writer Will Murray; and other bonus materials not seen in prior editions. Cover by Doc Savage cover artist Joe DeVito!
---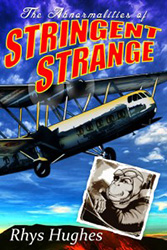 is a novel that is a tribute to the pulp SF writers of the 1920s, 30s and 40s, featuring the bold aviator Stringent Strange and a host of other characters in a series of adventures set in a future full of more astounding thrills than is possible to list in such a brief descriptive paragraph!
---