OUT OF PRINT
Being an Account of the Delay at Green River, Wyoming,
of Phileas Fogg, World Traveler,
or, The Masked Man Meets an English Gentleman
by Win Scott Eckert
---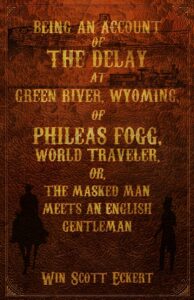 US $8
5.5×8.5, 28 pages (9,800 words)
Limited Edition of 200 Signed copies
Jules Verne's Around the World in Eighty Days
Philip José Farmer's The Other Log of Phileas Fogg
THEY WERE ONLY THE BEGINNING!
In 2014, Meteor House published Phileas Fogg and the War of Shadows by Josh Reynolds, a sequel to Philip José Farmer's The Other Log of Phileas Fogg. 2016 brings us Reynolds' Phileas Fogg and the Heart of Osra, furthering the exploits of Jules Verne's most iconic hero.
Now, join Meteor House as Win Scott Eckert reveals a hitherto unknown chapter in Fogg's celebrated round-the-world journey!
December 1872. Phileas Fogg, the lovely Aouda, and his faithful manservant Passepartout, are nearing the end of their frenzied eighty-day dash around the world…
One wouldn't think, as Fogg and Co. speed across North America on the transcontinental railroad, that they would have time to befriend a mysterious masked lawman, match wits with a long-lived criminal mastermind and his tong, and battle anti-Chinese sentiment in Old West coal mining communities.
One would be wrong.
Win Scott Eckert pulls back the veil on the previously untold tale of Mr. Phileas Fogg's fateful encounter with the legendary masked rider of the plains and his faithful companion—an episode suppressed (with good reason!) by M. Verne himself from the final publication of his classic Around the World in Eighty Days.
Meteor House is proud to present our first limited edition chapbook, a 9,800 word adventure signed by Win Scott Eckert.