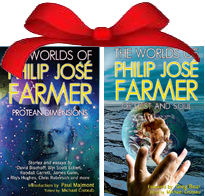 Purchase both volumes of the The Worlds of Philip José Farmer series together and save even more money.
Instead of the combined $45 list price for both books (plus shipping), you pay $37.50 (plus shipping).
Not only that, but you save money on shipping as well. Instead of paying $5 to the US, $7 to Canada, and $13 Everywhere else (per book), you pay $6 US, $11 Canada and $20 Everywhere else.
US customers save a total of $11.50, Canadian customers $10.50 and the rest of the world saves $13.50.
The pair of books will be shipped together, and of course the two books will have matching numbers.