Time is Running Out on Stringent Strange!
Last Chance for You to be a Spectator in this Novel!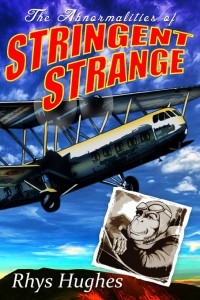 That's right, you can be in this book:
The world has never seen an aviator quite like Stringent Strange. Half man, half ape, half badly added fraction, he can fly anything with wings and many things without. Under the mentorship of the unorthodox genius Professor Tobias Crinkle, our hairy hero soon gets much more than he bargains for when he finds himself up against a fiendish Nazi plot to invade and conquer America before the war has even begun!
Fortunately there exists an invention that can help him fight back against the warlike scoundrels, but the consequences of using it will propel him into even greater peril, into an alternative future where the themes and tropes of early magazine science fiction are menacingly real and coexist in perfect disharmony! Into a bracing reality where the only weapons he can rely on are the three special abnormalities he was born with…
Not only is The Abnormalities of Stringent Strange Rhys Hughes best novel (so he says anyway), but this Signed Limited Edition may also be his rarest book! As of today, pending future preorders, this book collector's dream (or nightmare if you don't order now), will be a limited edition of less than 100 copies!
The deadline to preorder your copy of this pulp / science fiction / surrealist / metafictional / comedic romp, and all the goodies that come with it,* is April 30th. On May 1st you will no longer be able to preorder a copy of the novel and the final number of copies will be announced.
So this is it, time is running out for you to get in on, and into, one of the most unusual books in the history of small press publishing.
*Goodies: Your name is printed in the book as a spectator along with all the other preorderers, and you get a free ebook of The Further Fangs of Suet Pudding, and if you want you can even purchase a "deleted scene" featuring yourself interacting with a famous author (and by "interacting" we mean you fight them in the gladiatorial arena…and you die).