Aug 12, 2019
Uncategorized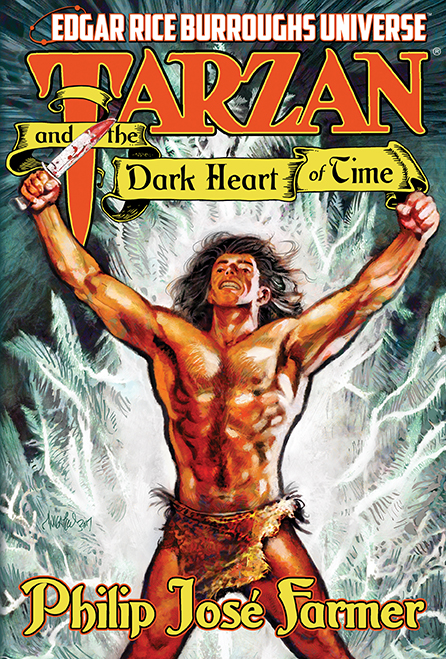 We were so thrilled when Edgar Rice Burroughs, Inc. announced at the ERB panel at San Diego Comic-Con on July 19, 2019 that certain previously published authorized Burroughs novels by other writers—specifically Philip José Farmer's Tarzan and the Dark Heart of Time and Fritz Leiber's Tarzan and the Valley of Gold—are considered official canonical novels in terms of the Edgar Rice Burroughs Universe™ (ERBU), that we immediately asked ERB, Inc. if we could add the ERBU logo to our next printings of Tarzan and the Dark Heart of Time.
With an enthusiastic "yes" from ERB, Inc. in response, we quickly ordered a new run of hardcovers which we'll have on hand at PulpFest 2019 / FarmerCon XIV this week—August 15 through 18—in Cranberry (Pittsburgh) PA.
Softcovers won't have the new logo until we sell through our current stock, and ebooks will be updated with the new logo shortly after PulpFest. A 
new first hardcover edition of Leiber's novel is also just out
, published by ERB, Inc. and Christopher Paul Carey, Director of Publishing at ERB, Inc. will have copies on hand at PulpFest.
Tarzan Lives!