The Worlds of Philip José Farmer 3:
Portraits of a Trickster
---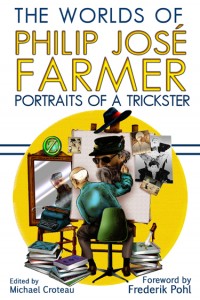 US$ 25.00
6×9 tpb, 284 pages
ISBN-13: 978-0-983-74611-9
LIMITED EDITION
of 500 copies
It is hard to describe the amount of awesome in this collection: the secrets revealed, the heartfelt tributes, the mysteries you can help solve, the tricks that may or may be played on you, the secrets revealed, the never before seen material by Farmer, the stories continued (with even more secrets revealed)… The most exciting volume of The Worlds of Philip José Farmer yet!
Contents:
Foreword by Frederik Pohl
Peoria-Colored Worlds
Missing the Wit and Creativity by Michael Bailey
Down in Phil Farmer's Basement by Steven Connelly
Over All, After All by Philip José Farmer
Of Friendships and Influences
The Holy Spirit of Science Fiction by Bruce Sterling
A Box of Influence by Chris Garcia
Wild Weird Clime by Philip José Farmer
To Be, or Not to Be by Tom Wode Bellman
Worlds in Disguise
Trout Masque Rectifier by Jonathan Swift Somers III
Kilgore, Kurt, and Me by David M. Harris
The Many Dooms of Harold Hall by Charlotte Corday-Marat
Desires Denied by Leo Queequeg Tincrowdor
Classic Worlds
Osiris on Crutches by Philip José Farmer & Leo Queequeg Tincrowdor
The Genuine Imposter by Rick Lai
The Long Wet Dream of Rip van Winkle by Philip José Farmer
Up, Out, and Over, Roger by Philip José Farmer
Expanded Worlds
The Wild Huntsman by Win Scott Eckert (Wold Newton story)
Dakota's Gate by Heidi Ruby Miller (Two Hawks from Earth story)
The Last of the Guaranys by Octavio Aragão & Carlos Orsi (Time's Last Gift story)
Trickster of the Apes by S.M. Stirling (World of Tiers story)
To make a purchase use the Add to Cart button below.
BUT WAIT! DON'T CLICK ON THE BUTTON JUST YET. If you already own a copy of The Worlds of Philip José Farmer 1: Protean Dimensions, then you automatically qualify for a $5 discount off volume 3. Click Here to save money and make sure you get the same number of volume 3 that you have of volume 1.
(What's that, you say you don't own a copy of Volume 1 but you want in on this deal? We can do you one better: Click here for more combo deals that will save you money on two, three, or even all four books in he series, and save even more with combined shipping).