First Trade Edition!
Up from the Bottomless Pit
by Philip José Farmer
---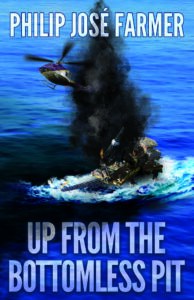 US$ 20.00
5.5×8.5 tpb
250 pages
Philip José Farmer's Up from the Bottomless Pit, originally written in the late 1970s with the working title The Dragon's Breath, is a near-mainstream novel about the ultimate ecological nightmare. Set in an alternate/near future 1970s, Up from the Bottomless Pit tells of a world so ravenous in its desire for oil that it has thrown caution to the wind. Using an experimental deep-water laser drill off the California coast, humankind burns a hole through the ocean floor only to unleash a deadly torrent that initially threatens the greater Los Angeles area, but quickly escalates to a catastrophe of worldwide proportions with the potential to wipe out all life on the planet.
The novel wasn't quite what Del Rey was looking for at the time, so Phil instead turned in Dark is the Sun (set fifteen billion years in the future). Fast forward to 2005 and the team here at Meteor House was launching the fanzine Farmerphile: The Magazine of Philip José Farmer. We serialized the novel over the first 10 quarterly issues between 2005 and 2007. At $11 per issue, it cost over $100 to read the novel. In 2007, Subterranean Press published Up from the Bottomless Pit and Other Stories, collecting all of Phil's material from Farmerphile in a deluxe limited edition of only 250 copies. But, at $125, it again cost over $100 to read this book.
This is the Farmer novel you've heard about but never got to read! Now, available for the first time ever in a trade paperback edition, you can get Up from the Bottomless Pit for only $20 (+shipping).
Featuring cover art by Keith Howell, a foreword by Farmerphile editor Christopher Paul Carey, and an introduction by award winning environmental writer Sharman Apt Russell!
Philip José Farmer (1918 – 2009) was a three time Hugo award winner and named a Grand Master by the Science Fiction and Fantasy Writers of America, capping a distinguished career of over fifty novels and one hundred short stories. He is best known for his Riverworld and World of Tiers series, the Dayworld series, and for the Wold Newton Family, which includes many recognizable characters such as Tarzan, Doc Savage, Nero Wolfe, and Sherlock Holmes. He has long been recognized as one of the foremost writers in the fields of science fiction and fantasy. Visit his official website at www.pjfarmer.com.