FarmerCon VI is almost here!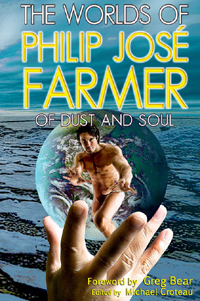 It's hard to believe that FarmerCon VI is less than a week away!
We do have some disappointing news to report however. Despite our best efforts, in order to bring out the best book possible, The Worlds of Philip Jose Farmer 2: Of Dust and Soul will not be available at FarmerCon VI. However, for all those attending FarmerCon, if you have pre-paid for the book, or if you buy it there, Meteor House will pay the shipping charges and send it to you at our expense as soon as the book is available. We expect to able to ship the book the second or third week of August.
If you are not coming to FarmerCon, don't forget that you can still pre-order the book and save $5. Or order volume 1 and volume 2 together and save even more money. But you must order by August 1st to get these discounts.