The Worlds of Philip José Farmer 2: Of Dust and Soul – Now Shipping!
The most highly anticipated anthology of 2011* is now in stock and shipping. Just like Volume 1 of the Worlds of Philip José Farmer series, Volume 2 contains a stellar line up of new and old, fiction and nonfiction, all written by or about science fiction Grand Master Philip José Farmer. Let's take a peek, shall we: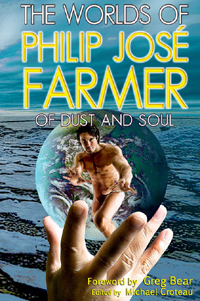 Tributes to Phil by Greg Bear, Charles Platt and James Sallis, and tributes by Phil about Vern Coriell and Robert Bloch.
Two speeches by Phil, one of which is about two of his literary heroes, Mark Twain and Kurt Vonnegut, Jr.
An essay by noted Farmer expert Edgar L. Chapman (author of The Magic Labyrinth of Philip José Farmer) and an up close and personal look at Phil by one of his grandchildren, Thomas José Josephsohn.
And the fiction, let's not forget the fiction. If you thought Tim Howller's adventure (based on events that actually happened to Phil) in "The Face That Launched a Thousand Eggs" (published in Farmerphile No. 1 and Up from the Bottomless Pit and Other Stories, Subterranean Press) was wild, you haven't seen anything yet. Picture college freshman Howller getting his first taste of love at first sight, and alcohol, on the same day (the falling in love came first by the way).
Not counting Riverworld, name your five favorite Farmer novels or short stories—ok, we've probably got a story you're going to love: a Ralph von Wau Wau story by Spider Robinson, a Kent Lane story by Bradley H. Sinor, a World of Tiers story by Jean-Marc & Randy Lofficier, an Image of the Beast story by Mary A. Turzillo, a Time's Last Gift story by John Allen Small, and the most anticipated of the most anticipated: "Kwasin and the Bear God," a novella by Philip José Farmer & Christopher Paul Carey!
If you already own The Worlds of Philip José Farmer 1: Protean Dimensions, when ordering Volume 2 make sure you click on the Paypal buttons that give you $5 off. Also include your number of Volume 1 and we'll make sure you get the matching number of Volume 2 (that's the whole point of the series being a Numbered Limited Edition of only 500 copies).
If you do not already own Volume 1, be sure to check out the Combo Deal where you can order both books together (with matching numbers of course), get a discount on both volumes and save even more money on shipping.
*published by Meteor House