Worlds of Philip José Farmer 2 Spotlight: Artist Charles Berlin
Releasing a never-before-published Philip José Farmer story is always a momentous occasion, but when we realized that "Kwasin and the Bear God"—completed by Christopher Paul Carey based on a partial alternate outline to the forthcoming Khokarsa novel The Song of Kwasin—was going turn out to be a 20,000-word novella, we knew we wanted to do something special for the story's debut in The Worlds of Philip José Farmer 2: Of Dust and Soul. So, while we hadn't originally envisioned any interior illustrations for the anthology, we decided to commission two pieces by artist Charles Berlin to go along with the story. Pictured here is the first of the two illustrations, titled "Queen of Serpents."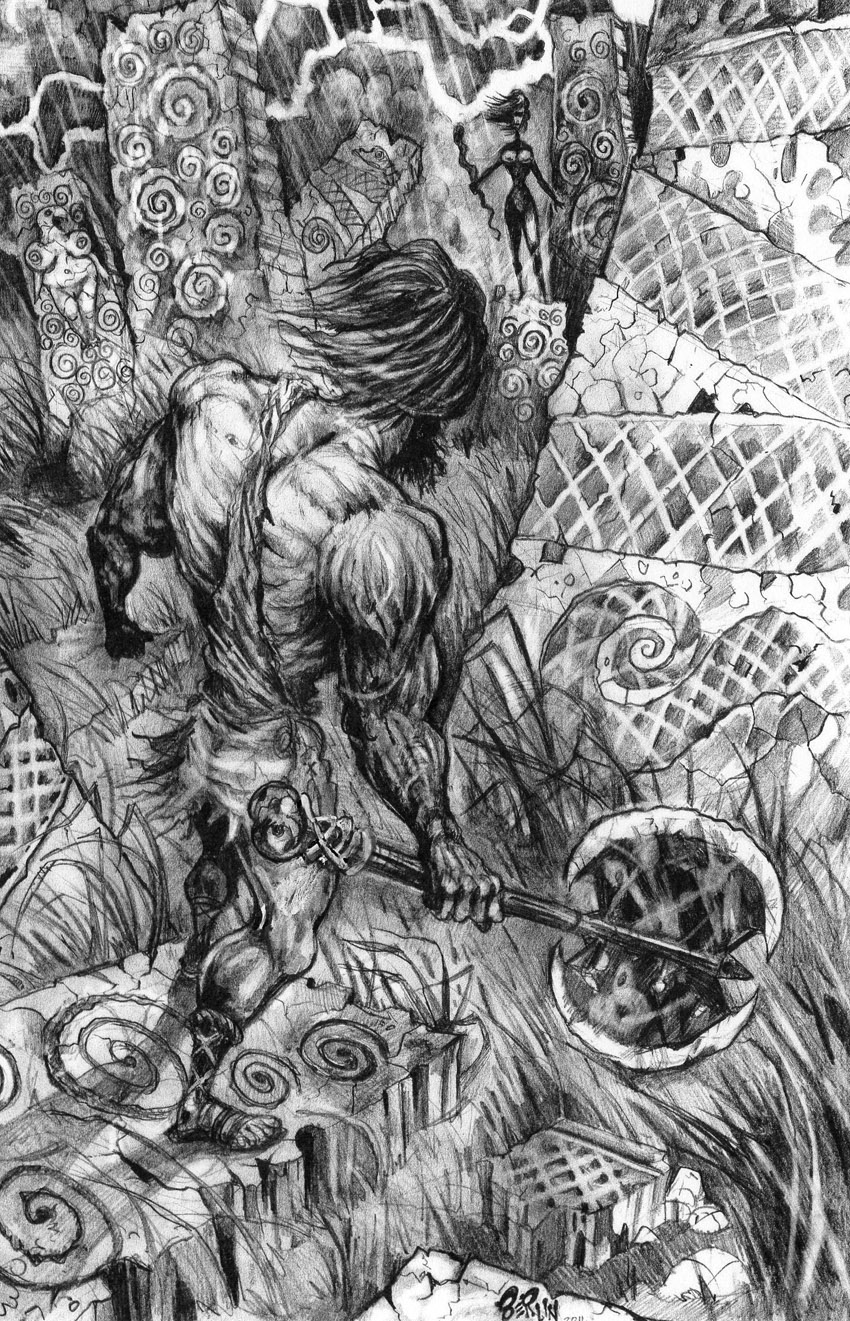 We've asked Chris, since he coauthored the story, to give some commentary on the illustration.
"When the folks at Meteor House let me know they were interested in illustrating the story, they were kind enough to ask for my input on the artist. Charles Berlin came first and foremost to mind for a couple of reasons. First, I'd worked closely with Charles on some other Khokarsa-related projects in the past, most recently the maps for the forthcoming Khokarsa omnibus from Subterranean Press, which turned out beautifully, but also the cover to Farmerphile No. 9, consulting with Charles on the Khokarsan glyphs used in that illustration. I've long been impressed by Charles's attention to detail. Second, I wanted an artist who really had a sense of the ancient and who could evoke the emotion and darkness of the moldering ruins of a city lost to time (in this case, Miterisi, the City of the Snake, pictured above) as well as portray mysterious animals out of myth and legend, and I knew Charles was the perfect choice because of his work in World Explorer magazine.

"I couldn't be happier with how Charles's illustrations to 'Kwasin and the Bear God' turned out. From his depiction of the pictograph of Kho as the Bird-Headed Mother Goddess to the detail with which he rendered Kwasin's ax, which most readers of the Khokarsa books know would later be wielded by the great Umslopogaas of H. Rider Haggard's works. Regarding the latter, it's interesting to note that both Charles's depiction of the ax and Phil's descriptions are both somewhat different from Haggard's descriptions of Umslopogaas's ax. This variance is intentional, but I'll have to tease you by stating that you'll have to wait for the release of The Song of Kwasin next year if you want an answer to the mystery."
The Worlds of Philip José Farmer 2: Of Dust and Soul, which includes the novella "Kwasin and the Bear God" and other never-before-published work by Philip José Farmer, is now shipping from Meteor House.