The Scarlet Jaguar Wins New Pulp Awards!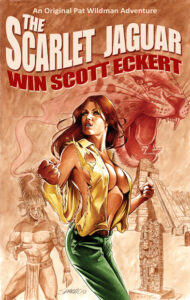 We're pleased as punch here at Meteor House that our second Signed Limited Edition novella, Win Scott Eckert's adventure tale The Scarlet Jaguar, has won the 2014 New Pulp Award for Best Novella. As if that weren't enough, cover artist Mark Sparacio has won the award for Best Cover, again for The Scarlet Jaguar.
Published last summer and making its debut at the 2013 PulpFest/FarmerCon, Win Scott Eckert's adventure is a sequel to Philip José Farmer and Win Scott Eckert's Wold Newton novel The Evil in Pemberley House, about Patricia Wildman, daughter of one of the greatest heroes of our time: Doc Wildman, the bronze champion of justice. The Scarlet Jaguar kicked off a series of new adventures of Pat Wildman and her crew, and the Limited Edition quickly sold out.
But worry not! If you missed out on this now out-of-print collectible, the ebook edition will be released in a few short weeks. Follow us here and on Facebook for the latest news on this and other Meteor House releases.