Exiles of Kho ebook now Available!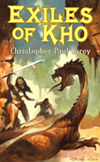 Meteor House is proud to announce that our first ebook is now online for purchase directly from amazon.com!
Exiles of Kho by Christopher Paul Carey was our first Signed Limited Edition novella. If you missed out on this now out-of-print collectible, here is your chance to read how Sahhindar, the Grey-Eyed Time Traveling God, who made brief appearances in Flight to Opar and The Song of Kwasin, influenced the course of the Khokarsan Empire.
The ebook even features the original cover, and interior, art by Mike Hoffman!
Even if you already own a signed copy of Exiles of Kho, you know you want to read it again. At only $3.99, now you can keep your signed copy pristine and reread the novella to your heart's content.