The Scarlet Jaguar is now available on Nook!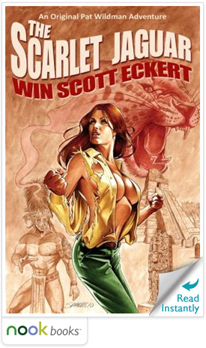 In the "better late than never" department, we're pleased to announce that Win Scott Eckert's The Scarlet Jaguar  (second in the Pat Wildman series, and winner of the 2014 New Pulp Award Winner for Best Novella) is now available on Nook.
We know that we've been a bit behind the curve here at Meteor House in terms of getting ebooks out. While a few books in our back catalog are not on deck for ebook release due to various issues, we are committed to catching up with Kindle and Nook releases of as many books as we can in the coming weeks and months, so stay tuned!
Back to Pat Wildman: we know that it seems odd that book #2 is out in ebook before the first in the series, The Evil in Pemberley House. This is due purely to the fact that we secured the rights to reissue Pemberley House after we released The Scarlet Jaguar. The print edition of Pemberley House is currently out of stock, but we should have more copies in house in short order, followed by an ebook edition (both Kindle and Nook). And yes, there will be more Pat Wildman adventures after that!
In the meantime, head on over to our ebooks page and pick up the new Nook edition (or the Kindle edition, for that matter!) of The Scarlet Jaguar!