Bi-weekly Sale – Less than Perfect Copies
Meteor House's Bi-weekly Sale!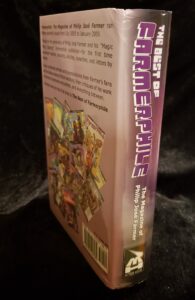 Our fifth Bi-weekly sale is a case of bad news for us being great news for you. Sometimes books get damaged in shipping and we're going to start offering them at a deep discount for those of you who are only interested in reading books but not collecting them (weird right?).
Our first "Less than Perfect" sale features hardcover copies of The Best of Farmerphile for $15 off the cover price.
You read that right, $15 off —
reducing the price from $40 to only $25!
(plus shipping)
The picture to the right shows a typical book, with bumping to the head and tail of the spine, and dust jacket wrinkling. Some dust jackets may have small tears in them, but all books are 100% readable.
So this is it, your chance to snag a reading copy of The Best of Farmerphile at an unbeatable price.
Do note that quantities of "Less than Perfect" copies are limited.