Up from the Bottomless Pit – Full Details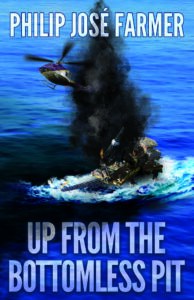 On January 26, Philip José Farmer's birthday, we announced our first book of 2020, the first trade edition of Up from the Bottomless Pit. Now we can fill you in on some more details about the book…
First, it features cover art by Keith Howell, which really gives you a feel for this eco-thriller, near-mainstream novel. Phil often looked into the far distant future in his works, but here he's looking at the near future (from the late 1970s).
There is a foreword by Farmerphile editor, Farmer co-author, and all round Farmer expert, Christopher Paul Carey, that gives us context for the story and it's publication history.
And now we're extremely pleased to announce that award winning science/nature and science fiction writer Sharman Apt Russell will be writing an all new introduction for this first affordable trade edition. (See this article she wrote for Locus magazine about "Science Fiction and the Environmental Movement.") We reached out to her, and luckily for us, she is a Philip José Farmer fan! She's reading the novel now, and we can't wait to see what she thinks of it.
The book will debut at FarmerCon in August, but be sure to preorder your copy of Up from the Bottomless Pit now.