Back from FarmerCon!
For the second year in a row, FarmerCon was held at PulpFest and was a great success! The new, and much improved, hotel was great. The dealer room was much bigger than last year and had plenty of elbow room. The programming was top notch and included a good bit that would be of interest to Farmer fans. Said fans spent a lot of time hanging out together in the hotel lobbies and nearby restaurants and from all reports, everyone had a great time.
The big news however is that Meteor House released two new books at this year's FarmerCon.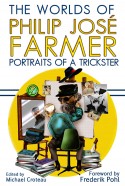 The Worlds of Philip José Farmer 3: Portraits of a Trickster, is the third volume in a continuing series of anthologies highlighting the life and career of science fiction Grand Master Philip José Farmer. This volume focuses on Farmer's fictional author period and other aspects of his Trickster nature. It contains a foreword by Frederik Pohl, essays about Farmer by Michael Bailey, Tom Wode Bellman, Steven Connelly, and Christopher J Garcia, essays about Farmer's work by David M. Harris, Rick Lai, Jonathan Swift Somers III, Bruce Sterling, and Leo Queequeg Tincrowdor. There is also fiction by Octavio Aragão & Carlos Orsi (a John Gribardsun story), Charlotte Corday-Marat, Win Scott Eckert (a Wold Newton origins story), Heidi Ruby Miller (a Two Hawks story), and S.M. Stirling (a Kickaha story). There are also speeches, rare stories, and more by Philip José Farmer himself!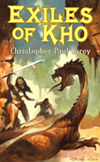 The novella Exiles of Kho is a prequel to the three novels that make up the Khokarsa cycle: Hadon of Ancient Opar, Flight to Opar, and The Song of Kwasin. The first two novels were written by Philip José Farmer in the 1970s. The third and concluding novel was written by Philip José Farmer and Christopher Paul Carey and published this year in Gods of Opar: Tales of Lost Khokarsa. Exiles of Kho is by Christopher Paul Carey, based on clues Farmer left in the first two novels it also ties into other novels by Farmer.
There are a couple of things you need to know about these books. First, if you already own The Worlds of Philip José Farmer volume 1 and/or volume 2, you get a discount on volume 3, abd we'll send you a matching number. If you don't already own volume 1 and 2, then have we got a deal for you if you buy all three volumes at once.
Second, Exiles of Kho is a limited edition of 200 copies and there are only about 20 copies left. Don't expect these to last very long.