Animal Aid Charity Auction Starts Today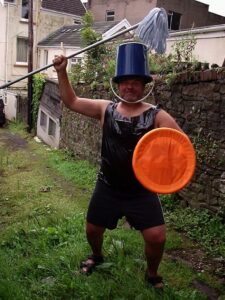 Today is the first day of the Abnormalities of Stringent Strange Animal Aid Auction! If you want to be a gladiator in Rhys Hughes' new novel (due out soon from Meteor House) then why not bid for the chance?
The auction will continue until September 16th and the six highest bidders will appear in the book fighting a famous writer to the death (you may choose which writer you want to fight!). . .
50% of the monies raised from this auction will go to Animal Aid, so your fictional death will help to safeguard real life.
If Rhys is willing to dress up like this, undoubtedly frightening his neighbors, for Animal Aid, the least you can do is bid in the auction!
Here is a sample of a shorter "deleted" scene of a reader fighting Herman Melville in the arena. This is the kind of absurd sillyness in store for our six winning bidders. Although our bidders will be able to put up more of a fight. In fact, the more they bid the longer they live!
Don't miss out on this once-in-a-life-time opportunity to have your death immortalized in fiction!