First title announcement for 2022!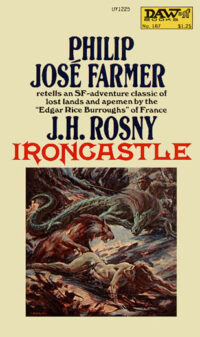 In 1976, DAW books published Ironcastle by Philip José Farmer. Actually, Farmer didn't write this book, he translated and "retold" a classic French adventure tale by J.-H. Rosy. You may remember this cover to the right.
What you didn't know about that paperback original was that less than half of the stunning artwork by Roy G. Krenkel was used on the cover. Click here to see the full painting!
Wow, it's like discovering brand new artwork by Krenkel after all these years!
Here's what you need to know about Meteor House's editions of Ironcastle:
Trade Paperback and a Limited Edition Hardcover.
New introduction by Brian Stableford.
Bonus short story sequel, "Iron and Bronze," by Christopher Paul Carey and Win Scott Eckert.
New afterword by Win Scott Eckert.
Six interior sketches from the paperback by Roy Krenkel.
Trade Paperback features the full Krenkel artwork on the cover.
Limited Edition Hardcover (limited to 200 copies) features the full Krenkel artwork with no text on the front cover at all. It has custom printed color end sheets and is signed by Brian Stableford, Christopher Paul Carey, and Win Scott Eckert.
We are taking preorders now and both editions of the book will ship in June 2022—so right around the corner! With the extra interest in the never-before-published Krenkel art, we expect this hardcover to sell out very quickly. So place your order today!