More bonus material for Ironcastle!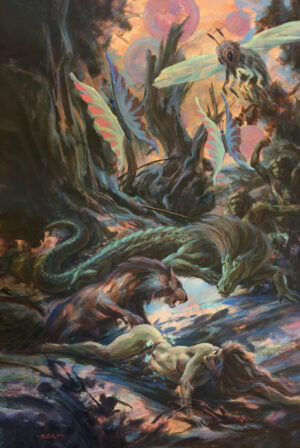 As we previously announced, our new edition of Ironcastle includes a new forward by Brian Stableford, a new afterword by Win Scott Eckert, and the short story "Iron and Bronze" by Win Scott Eckert and Christopher Paul Carey.
We're excited to let you know that Christopher Paul Carey has also turned in a new bonus essay for the book! Check out the table of contents:
A Grateful Intrusion by Brian Stableford
Ironcastle by Philip José Farmer and J.-H. Rosny
Iron and Bronze by Christopher Paul Carey and Win Scott Eckert
Surprising Embellishments by Win Scott Eckert
Cosmic Roots by Christopher Paul Carey
And of course we're never going to stop talking about the amazing cover art by Roy G. Krenkel, shown to the right how it will appear on the Hardcover Limited Edition. Which, don't forget, is signed by Stableford, Eckert and Carey! But, with only 200 copies, these are going fast. Preorder yours today before they all ship in June.