Secrets of the Nine Ebooks Now Available!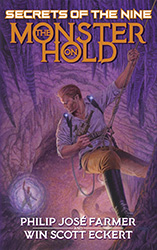 They were known simply as the Nine. Grim and ancient rulers who discovered the key to eternal life thirty-thousand years ago, and ever since have held the world secretly in thrall. These dark manipulators control the destinies of billions, including the formidable Doc Caliban and Lord Grandrith. These two, candidates for the Nine and half-brothers who had shared in the secret of immortality, have turned against their undying masters, daring to challenge their centuries-old supremacy.
Meteor House had the honor of publishing two brand new Secrets of the Nine books earlier this year, The Monster on Hold by Philip José Farmer and Win Scott Eckert and It's Always Darkest by Frank Schildiner.
The novel, The Monster on Hold, begun by Phil in the 1970s and completed by Eckert, has sold out of it's Signed Hardcover Limited Edition, but is still available in Trade Paperback, and now Ebook.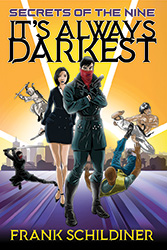 The Novella, It's Always Darkest has nearly sold out of it's Hardcover Limited Edition (only three copies left!) is now available in Ebook.
The ebook for The Man Who Met Tarzan is coming soon!