Chapbook #4 – Strange Incursions by Jason Scott Aiken!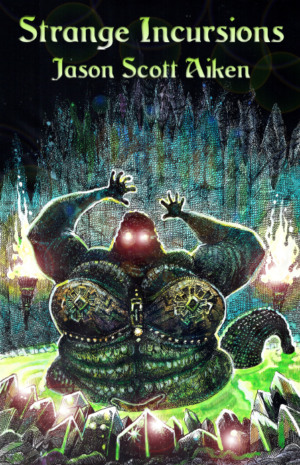 Just in time for FarmerCon/PulpFest, Meteor house has a surprise release: Chapbook #4, Strange Incursions by Jason Scott Aiken! Featuring cover art by Charles Berlin!
Strange Incursions contains two short stories by Jason Scott Aiken, "The Blood of Raizor" and "Galazi in the Enchanted City," about natives clashing with invasive alien species. The stories are not directly related to each other but share common inspirations and themes from the pulps, mythology, history, and writers like A. E. van Vogt, Eugéne Henneber, H. Rider Haggard, Edgar Rice Burroughs, Robert E. Howard, Charles Saunders, and Philip José Farmer.
Jason will sign all 100 copies of this limited edition Friday at the Meteor House table in the PulpFest dealer room.
You can preorder a copy now, and orders will be shipped