DS:HAL 50th Anniversary Edition Print Count Set at 150
So, here's a peak behind the curtain:
Preorders during the short selling window for our Doc Savage: His Apocalyptic Life 50th Anniversary Edition have been stronger than expected! With barely two months to prepare this book in time for FarmerCon we expected a print run of only 100 copies. But sales have exceeded our expectations and we've had to bump the print run to 150! That's enough to cover the preorders, and FarmerCon, and hopefully have a few left over to sell here. But remember, this book has two different covers, one with Doc's profile, and one with a Mayan temple, stamped on the front cover in bronze.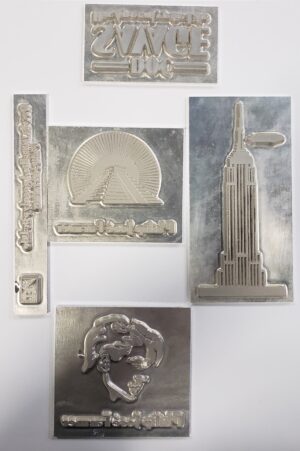 Speaking of the bronze foil stamping. In order to do this we have custom magnesium stamping dies made for each of our books. But for this book we had to order five different dies:
One for the top half of the front cover with the title
One for the bottom half with Doc's profile and Phil's name
One for the bottom half with the Mayan temple and Phil's name
One for the title and Phil's name on the spine
One for the top secret back cover stamp
We haven't mentioned the back cover stamping before now, but you can see that stamp in this picture to the right; Doc's headquarters, with a zeppelin moored at the top!
We're still taking preorders, for either cover, but once the 75 of each sell out, that's it. As preorders continue to come in throughout July we fully expect to have some of each cover on hand for FarmerCon, but there is no guarantee both covers will be available after.