Doc Savage: His Apocalyptic Life – New Revised Deluxe Hardcover Edition
Meteor House is proud to announce a new edition
of Philip José Farmer's landmark biography
is now available for preorder
and will be available in July 2013!
Cover by Doc Savage cover artist Joe DeVito!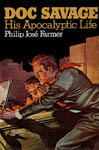 Back in print for the first time in over 30 years, Philip José Farmer's biography of the bronze crusader who fought almost 200 separate battles against the forces of evil "is ingenious, sardonic, adulatory, outrageous and funny in turn." (Publisher's Weekly)
Philip José Farmer, biographer of Lord Greystoke, has turned his superb research and narrative skills to one of the greatest heroes of our time: Doc Savage, the bronze champion of justice. Now, at last, the incredible life story of the real man behind the exploits in the Doc Savage pulp novels can be told, including: his true name (Dr. James Clarke Wildman, Jr.); his family background, covering his relationship to such stalwarts as Lord Greystoke, Sherlock Holmes, Sam Spade, James Bond, and Fu Manchu); detailed information on some of his most devilish opponents—John Sunlight, the Mystic Mullah, and Mr. Wail; a summation of some of Doc's most amazing inventions; and biographies of the Fabulous Five—Monk, Ham, Renny, Long Tom, and Johnny—as well as the group's Lady Auxiliary and Bronze Knockout, Doc's own cousin Pat Savage!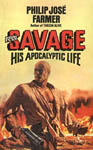 Together with other data and brilliant deductions, Philip José Farmer offers an amazing account of this remarkable man's astonishing career!
Available now for preorder, the newly revised edition of Doc Savage: His Apocalyptic Life also features a brand new foreword by Farmer and pulp expert Win Scott Eckert, updates to the "List of Doc Savage Stories" including the latest novels, and rare material culled from Mr. Farmer's notes.
The deluxe hardcover edition arrives just in time for Doc's 80th anniversary, and features tributes by other Farmer and Doc experts, including John Allen Small, Keith Howell, Rick Lai, Art Sippo, Christopher Paul Carey, and current Doc Savage writer Will Murray, as well as other bonus materials not seen in prior editions, such as:
Doc's Coat of Arms, reconstructed by Win Scott Eckert and illustrated by Keith Howell, from notes by Philip José Farmer
A List of Doc Savage Comics by Win Scott Eckert and John Allen Small (a rundown of authorized Doc Savage comics which supplements Mr. Farmer's "List of Doc Savage Stories")
Writing Doc's Biography by Philip José Farmer
"Written with wit and charm, sprinkled with allusions, this is a book to delight both science fiction and mystery fans." (Library Journal)
If you want a signed copy, be sure to read this: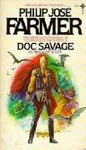 All copies preordered by June 30th, 2013 will be signed by Win Scott Eckert at FarmerCon VIII / Pulpfest 2013. In addition, Meteor House will try to organize a signing by the bonus material contributors (John Allen Small, Keith Howell, Rick Lai, Art Sippo, Christopher Paul Carey, and Will Murray), who are available at FarmerCon VIII / Pulpfest 2013. (Hint: almost all of them are sure to be there!)
After FarmerCon VIII only unsigned copies of the book will be available to purchase.